AEROSPACE & SPECIALTY MANUFACTURING
ISO9001:2008 / AS9100 Rev. C Registered

ABOUT
Santos Precision Manufacturing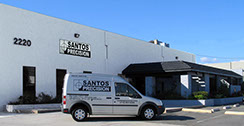 Company Background
While our reputation for quality and service is recognized in the industry, it is built upon Old World Values instilled by the founder, Francisco Santos. Beginning in 1979, he established professional services about cutting metal ... but never cutting corners. Tools and methods within the machining industry have made remarkable advancements since its inception, and Santos Precision has utilized them well in its evolution from manual craftsmanship to high technology. Our unchanging values of customer service and attention to detail have been combined with these expanded capabilities to broaden our reach into new industries and a growing array of highly satisfied customers.
Customers such as: Boeing, Moog, Rogerson Aircraft, Pacific Scientific, Circor Aereospace, Lefeill Manufacturing, Mid America, Marving Engineering, Northtrop Gruman, and Eaton.
Our Visions and Goals
Santos Precision is broadening its services in the design to manufacturing space to participate more integrally with our customers.  Our vision is to become a more widely recognized strategic partner and manufacturing solution provider for our customers.  Through mutual collaboration with our customers on strategies such as 'design to cost' and lean manufacturing methods, higher levels of value and shorter lead times can be realized which will yield greater profitability.  Our vision is to become a strategically minded world class fabrication partner,  providing services and support that allow our customers to focus on core competencies and profitable growth.
Our goals include capabilities that allow us to consolidate services that OEMs would have to do themselves such as manufacturing engineering optimization, precision machining, and assembly.  We are pursuing the means to find where a customer's project can utilize our LEAN method of technology, manufacturing cost-saving features, and other LEAN methods all the while supporting the success of the product development process and product performance.
2220 South Anne Street, Santa Ana, CA 92704
© 2013 Santos Precision – All Rights Reserved
Tel - 714. 957.0299 Fax - 714.957.0949